This week's challenge:
Your favorite part of the holidays! Use something on your card that represents your favorite part of the holidays.
My favorite part of the holidays is the music. I firmly don't believe in Christmas until after Thanksgiving, but at work the music started in October, lol. Amy Grant's
Home For Christmas
album is my favorite of all time. I got it as a gift when I was in the 7th grade. I lost it when my car got stolen, but this last holiday season I bought the iTune version of it for my iPod.
I used
Unscripted Sketches #47
and I just realized that I forgot to add my snowflake and button, lol. Oh, well...might just leave the card for now. We'll see.
I fixed my card and like it much better!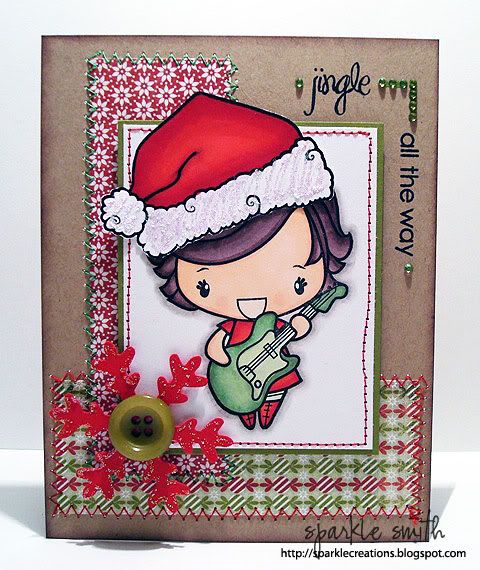 Paper: Basic Grey Eskimo Kisses
Stamps: The Greeting Farm, sentiment PTI
Rhinestones, Crystal Stickles, Snowflake Punch, PTI Buttons, and Copics
Mr. Linky Note:
Please link directly to the blog post or gallery page where we can view/comment on your creation and not just the generic link to your blog. To get the full url, click the title of your blog post (which will load a page that has just that post on it), then copy and paste the URL into the Mr. Linky form. Thanks and
please still post a comment so I know you added a card
!
Now, I would like to introduce you to my new lovely design team. Though I've never met any of these ladies in real life, I've been good blog friends with all of them for awhile now. I am very excited for them to start in April and I know you all will love their creations as much as I do.
Alanna Moses
Hi. My name is Alanna and I'm a busy wife and mother of two who spends her daytime hours working as an auditor for a CPA firm. At night, I try and squeeze everything else into my life. I've been working on passing the brutal CPA exam and am almost there. I love paper crafting, both cardmaking and scrapbooking. With cardmaking, it's all about brightening someone's day and letting them know, that for whatever reason, I'm thinking about them. Scrapbooking helps me tell a story, hopefully one that future posterity will want to read and look at.
Peggy Toole
Hello everyone! My name is Peggy and I live near Salmon Arm, BC with my husband and 3 energetic boys. I am so excited to part of Christmas Card Challenge's Design Team. I fell in love with stamping and cardmaking about 5 years ago now. I love making all types of cards but I especially enjoy making Christmas cards so this is the perfect spot for me!
Shanna Cameron Picard
Hi, my name is Shanna. I am Mom to two fantastic boys and will be celebrating 10 years with my hubby this July! I have been stamping for what seems like forever....it all started when my Mom, who had a flower & gift shop, sent me looking for gold ink one day. When I inquired about the ink, the owner of the stamp store introduced me to embossing and I was hooked! I started making my own Christmas cards to send to friends and family the following year and and have been doing so ever since.
Since discovering blog land a year or so ago and starting my own blog, I have come to love stamps from a wide variety of companies that I previously had no idea existed and have met lots of wonderful and talented people. I enjoy creating so much that I often call it therapy and like to do it as often as I can! I am so happy to be a part of the Christmas Card Challenge Design Team.
Stephanie Castro
Hi ya'll! I'm a full time working mom with two beautiful children and a wonderful, supportive boyfriend. We currently reside in the Dallas/Ft. Worth, TX area. I have been paper crafting off and on for the last 8 years, and am totally addicted to it. I was fortunate enough to find Sparkle's Christmas Card Challenge blog in December of 2008 and created a card each week, pretty faithfully, in 2009. I have to admit, it was nice having all of my cards done, and not being stressed trying to finish them. I'm honored, and excited to be chosen to be on this design team. I hope you'll continue to join us each week and I look forward to seeing your fabulous creations!
I hope you all have a fabulous weekend! I will be vacuuming and crafting!