This week's challenge:
Snowflakes! Use anything with snowflakes on your cards this week.
Okay, I only used one...but I love my snowflake punches. I bought them all last year and I've actually used them quite a bit. Which can be a rarity with my collection of stuff, lol.
I was short on time with preparing for my trip to Portland, so I cheated and used this Snowbunnybella image that was already colored for another card. I've just got scraps left of this paper pack, so I'm trying to be as resourceful as I can. But I'm lovin' my green and red cards!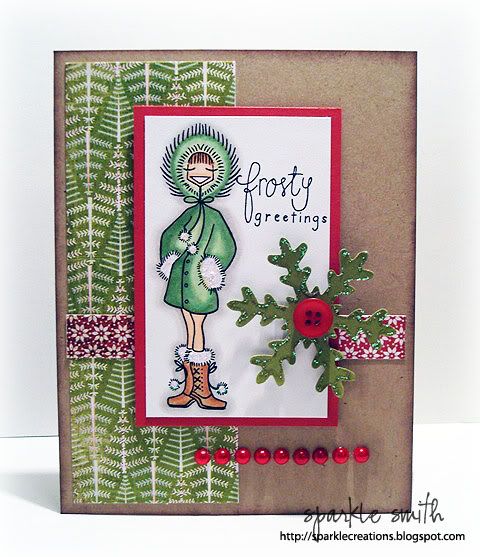 Paper: Eskimo Kisses
Stamps: Stamping Bella, sentiment is Amuse
Snowflake Punch, PTI Buttons, Crystal Stickles, Copics, and Pearls
I decided to try this new link system. If it doesn't work out, I'll switch back to Mr. Linky, but I think you'll love having the thumbnails of your cards show up. :)
Please link directly to the blog post or gallery page where we can view/comment on your creation and not just the generic link to your blog. To get the full url, click the title of your blog post (which will load a page that has just that post on it), then copy and paste the URL. Thanks and
please still post a comment so I know you added a card
!
Next week the Design Team will be taking over! Everyone have a fabulous Sunday!